U.S.-Headquartered GenH2, an Industry Leader in Hydrogen Infrastructure and Norwegianbased Hydrogen Solutions (HYDS) has signed a strategic partnership agreement.
Titusville, Fla. and Stord, Norway (February 13, 2023)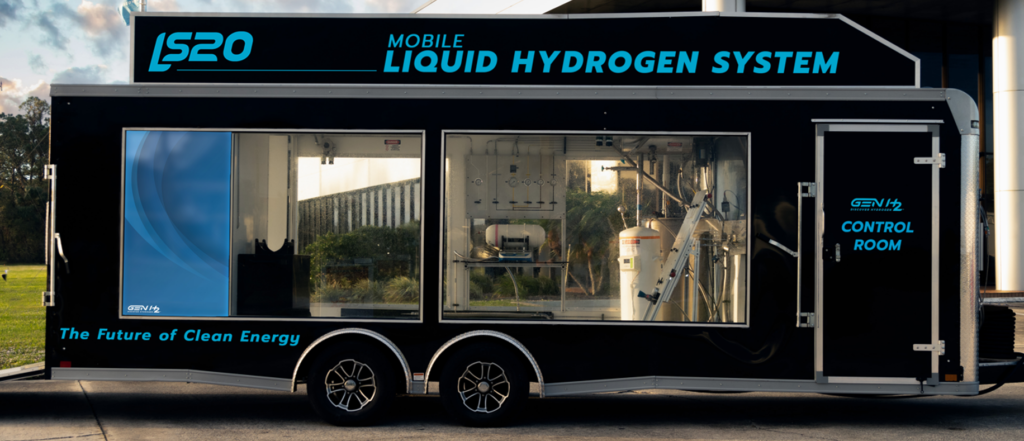 GenH2, a U.S. headquartered industry leader in hydrogen infrastructure solutions, announced today the partnership with Norwegian based HYDS for the production of Green Liquid Hydrogen in Norway and the rest of the Nordic market. The solutions will be available and sold through Liquiline and are based on GenH2' integrated hydrogen liquefaction technology and storage system.
The agreement marks a major step towards HYDS' focus on zero-emission onsite hydrogen solutions for maritime transport, where liquid hydrogen has major advantages compared with compressed hydrogen.
"We are thrilled to work with HYDS and their subsidiary Liquiline to provide local hydrogen liquefaction and storage in Norway", says Greg Gosnell, President & CEO of GenH2. "The capability to liquefy and store hydrogen locally reduces costs and risks associated with the liquid hydrogen supply chain. The partnership with HYDS opens the Nordic market for us and creates an opportunity to accelerate the transition to clean energy in Scandinavia".
GenH2 focuses on the mass production of infrastructure equipment necessary for the transition to a clean energy economy. The company's technology allows safe onsite liquefaction, storage, and distribution of hydrogen. HYDS is a key player in the Norwegian hydrogen market. The company focuses on scalable, locally produced green hydrogen and hydrogen derivatives by using commercially available and proven turnkey delivery to make hydrogen a real zeroemission alternative.
"Solutions for local production of liquid green hydrogen have not been commercially available in the market, and the fully integrated solutions from GenH2 represent a major game changer making liquid green hydrogen available in the market. Especially within the maritime segment this has been a missing link. HYDS explored multiple solutions for hydrogen storage and chose GenH2's modular technology for its ability to scale, integration possibilities with other technologies, safety and easy to operate", says Thor Henrik W. Hagen, CEO of HYDS.
"After a close dialogue over the last years, we are thrilled to announce the partnership with GenH2. This gives us access to their leading scalable technology for safe onsite production, storage, and distribution of liquid green hydrogen. Teamed up with GenH2, we are ready to start building a value chain for liquid hydrogen in the Nordic countries, focusing on maritime use", says Knut Førland, Managing Director of Liquiline.
About GenH2

GenH2 is a technology leader in hydrogen infrastructure systems for advanced clean energy. GenH2 solutions will allow for safe liquefaction, storage, and distribution of liquid hydrogen. The company will focus on mass-producing light-scale equipment to speed infrastructure buildout and make hydrogen accessible for everyday use around the globe. The Titusville, Florida-headquartered technology team includes former NASA researchers and developers who possess decades of experience researching, engineering, and building hydrogen solutions. Learn more about GenH2 at www.DiscoverHydrogen.com

About HYDS

Hydrogen Solution (HYDS) is a rapidly growing company established in 2021. HYDS develops, builds, owns, and operates hydrogen plants and their strategy is to produce scalable green hydrogen and hydrogen derivatives locally. The first two plants are already under construction, with a planned start-up respectively 1Q 2023 and 2Q 2023. Learn more about HYDS at www.hydrogensolutions.no/en/

About Liquiline
Established in 2005 the company has an extensive list of references within transport, storage and bunkering of LNG and LBG. The company has delivered several turn-key filling stations and bunkering facilities for ships, including the bunkering facility for Fjord Line in Hirtshals, the first facility of its kind in Denmark. Since 2018, Liquiline's focus has been within hydrogen. In 2019 a partnership with Danish Green Hydrogen Systems was agreed, regarding sale of their electrolysers in Norway. Liquiline is today a wholly owned subsidiary of Hydrogen Solutions (HYDS).
Contact persons:
Greg Gosnell, President & CEO of GenH2 Corp.,
email: contactGenH2@genh2.com
Thor Henrik W. Hagen, CEO of Hydrogen Solutions AS, phone: +47 901 71 479
or email: thor.henrik.hagen@hyds.no
Knut Førland, Managing Director of Liquiline AS, phone: +47 918 41 001
or email: knut.forland@liquiline.no